thePlatform
thePlatform™is the leading online video management and publishing company. Media companies rely on thePlatform as their open, central hub for managing, monetizing, and syndicating billions of video views annually. thePlatform's services provide unmatched versatility for designing and supporting video businesses on PCs, mobile, and TV.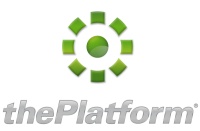 Your Content, VideoClix Enabled
VideoClix and thePlatform have partnered to offer a rich and immersive interactive video solution, seamlessly integrated into thePlatform video players and streaming services.
Founded in 1998, VideoClix is a pioneer in the clickable video space. All objects in VideoClix-enabled content are clickable, allowing viewers to rollover, click, and explore people, places and products. Viewers experience interactive narratives, create wish-lists, purchase products, choose-their-own adventure, explore information, and more. The experience is non-intrusive and highly customizable.
Our interactive video platform offers a monetization solution for content providers, and a non-intrusive media vehicle for advertisers. The metrics dashboard provides unparalleled visibility into your interactive content. Our SmartTrack technology identifies and tracks video objects, making this process highly scalable.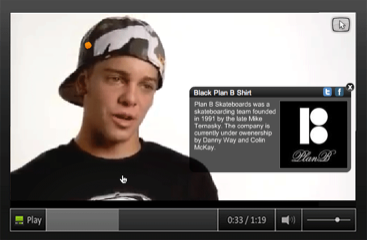 Users and licensees are provided with auto object tracking services, a content management system, a web based interactive editor, customizable HD player, syndication, load balanced CDN (optional), ad serving, metrics, reports, and social media connectivity.
> Videoclix & thePlatform in action
Activating VideoClix in your thePlatform Account
Integrating VideoClix with thePlatform entails three simple steps. The VideoClix team is available to assist along the way.
Create a VideoClix account: Sign Up Now
Create a media feed in your thePlatform account. This allows the VideoClix system to access your videos for object identification and authoring.
Update your video player embed code to contain the VideoClix Plugin. This enables interactive VideoClix content within your videos.