Use VideoClix to create, manage, distribute, measure
and monetize clickable videos today…
VideoClix provides an unparalleled platform for you to distribute and monetize your videos while entertaining your audience. Maximize engagement, increase retention and measure performance with the most comprehensive metrics reporting package on the market.
Upload Your Video

Objects are Auto-Tracked

Link Objects to Advertisers
True Interactivity with Video Objects
All objects (people, places, products) are clickable
Audiences can shop, play and learn while watching video
Clickable video increases site traffic, viewer retention and conversions
Detailed metrics capture exact viewer behavior (views, rollovers, clicks, conversions, demographic and more…)
Effective monetization solutions
Multiple options such as CPA, CPC, CPL and CPX
Contextual ads target your viewer's true interest on each object click
Closes the loop on product placement, brand integration and branded entertainment
High click-through rates of 2% to 50% (depending on content and objects)
Seamless integration into affiliate programs and online merchants
Easy management and distribution of interactive videos
User-friendly content and campaign management system (iCMS)
Automated tagging and tracking of video objects (Smartrack)
Global CDN (Content Delivery Network)
Ad network integration with standard IAB ads
Simple and Super-Syndication
Social media apps and widgets (Facebook, MySpace, Bebo)

Go LIVE and Distribute Globally
WebMobile
TV
Profit From Every Click
The VideoClix iCMS provides a platform to manage, author, distribute and monetize all of your video content, seamlessly.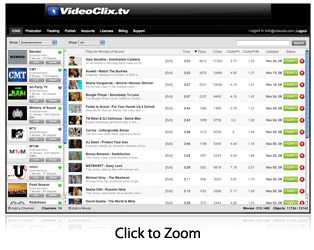 View and manage your account
Upload Videos and other rich media
Autonomously track, tag and categorize all objects
Set syndication and distribution rules
Generate custom embed tags
Access detailed metrics and analytics
View your earnings and account statement
The VideoClix Interactive Editor allows you to add interactivity and monetization solutions to each video.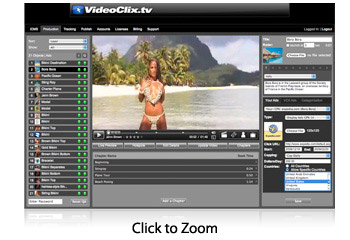 Add and edit interactive display content
Add multiple layers of fun facts and trivia for each object
Add and edit chapters
Add tags and metadata to your videos
Link products to e-commerce back ends and merchants
Manage ad campaigns and fallback campaigns for each object
Restrict ad display by date, caps, region, demographic…
Ensure each video is ready to "Go Live" using the
VideoClix Quality Assurance System
VideoClix Player
VideoClix allows your viewers to immerse themselves in your content. Every object is clickable enabling your audience to learn, shop, play and vote while they watch video. This increases viewer retention and monetizes your content at the same time.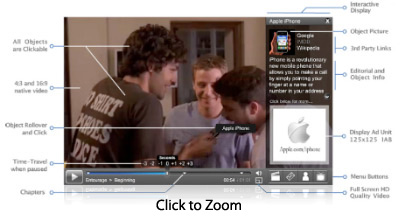 Engage and entertain viewers with fun facts, trivia, stats and product info within each interactive panel
Advance storylines and character development
Integrate multiple monetization solutions using VideoClix and third-party ad serving technologies
Deliver highly contextualized ads based on objects (people, products, places)
Embed the VideoClix player in your own site.
Backstage
After each viewing your audience is presented with a backstage pass. Here they can explore, shop, share and watch related videos.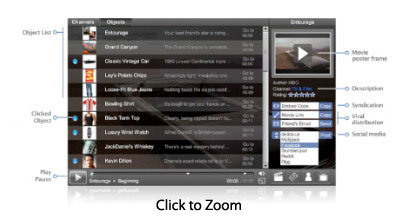 The Backstage increases engagement by allowing viewers to explore objects they've clicked before, or to discover new ones
Creates better monetization of video by providing a second chance for viewers to interact with each object
Serves as a product catalog for e-commerce sites
Increases video views by presenting viewers with related and/or recommended videos
VideoClix offers well over 2000 varied advertisers for you to take advantage of. Integrating these merchants into your videos is simple and takes mere seconds. A few of the advertisers include:
There are a variety of ways to showcase these advertisements that include:
Call-to-Actions e.g. "Buy Now"
Sponsorships e.g. "Brought to you by"
Display ads (Brand messages)
Lead generation forms
VideoClix creates a lean-forward experience that allows users to receive relevant information and ads based on their true interest.
Push vs Pull
Content integrity isn't compromised by push advertising
Traffic isn't depressed by intrusive ads: prerolls, bugs, etc…
Interactivity vastly increases retention and ad revenue
Staggering 3% to 50% pull ad CTR (content-specific)
Create, manage and serve Pull Ads
Target specific objects or categories of objects
Integrate your own ads or select VideoClix partner ads
Tie into your 3rd party ad server or ad network
Geo-target, cap, and day-part your campaigns
VideoClix content is delivered in multiple formats from 3GPP to HD quality using industry standard codecs and protocols compatible with 98% of Internet-enabled computers and the latest generation of mobile devices.
The VideoClix web and mobile players ensure every viewer experiences high quality playback by optimizing each stream based on quality of service and bandwidth. The player determines the dynamic variable bit-rate from 100Kbps (EDGE) to 2Mbps (HD) and can be embedded in third-party web sites.
The VideoClix CDN (Content Delivery Network) automatically transfers your content to each Point of Presence around the globe, so your videos are served to viewers—wherever they may be—fast and reliably from local servers… or you can employ your own CDN and video streaming servers.
Select and control your syndication rules across the Internet, iPhone player, content partners and social media sites within the VideoClix iCMS.
VideoClix Global Points of Presence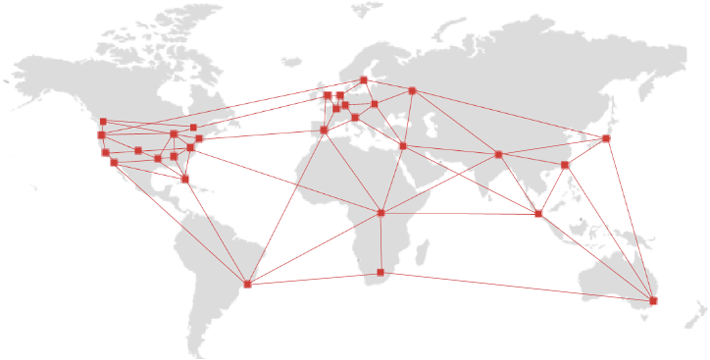 Go Beyond The Video View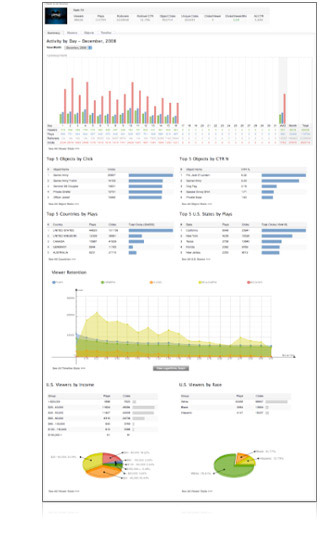 VideoClix metrics provides a powerful method of tracking and evaluating your audience's behavior in more detail than any other metrics system. Every clickable object in VideoClix content is tracked, analyzed and reported.
Discover your viewer's true interests and explore new opportunities to tailor your production and monetization.
Metrics include:
Video Views
Rollovers
Object-Clicks
Ad-Clicks
Click-Through Rates
Object Comparison
Viewer Retention
Viewer Location
Viewer Demographics
Ad Campaign Performance
and much more…
Learn how your viewers are interacting with your content from interest (rollover), to action (object-click), to engagement (outbound click) and finally purchase (conversion).