VideoClix Player
VideoClix allows your viewers to immerse themselves in your content. Every object is clickable enabling your audience to learn, shop, play and vote while they watch video. This increases viewer retention and monetizes your content at the same time.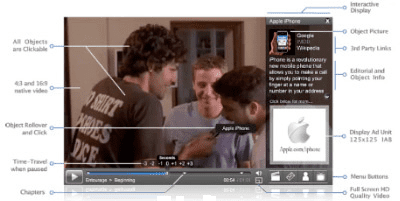 Engage and entertain viewers with fun facts, trivia, stats and product info within each interactive panel
Advance storylines and character development
Integrate multiple monetization solutions using VideoClix and third-party ad serving technologies
Deliver highly contextualized ads based on objects (people, products, places)
Embed the VideoClix player in your own site.
Backstage
After each viewing your audience is presented with a backstage pass. Here they can explore, shop, share and watch related videos.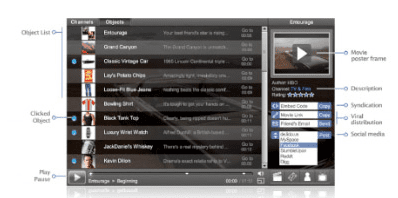 The Backstage increases engagement by allowing viewers to explore objects they've clicked before, or to discover new ones
Creates better monetization of video by providing a second chance for viewers to interact with each object
Serves as a product catalog for e-commerce sites
Increases video views by presenting viewers with related and/or recommended videos