I recently interviewed Videoclix's CEO and "creator," Babak Maghfourian on the expo floor of adtech San Francisco, CA at the Moscone center, sharing with us about their video delivery platform for clickable revenue for both advertisers and online video distribution platform publishers – a video distribution platform based around clickable video monetization. Babak explains that clickable video works by integrating "hot spots" within a video environment. The hot spots are dynamic in that they move along with the objects within the video. When the viewer clicks on an object in the video, information appears on that object.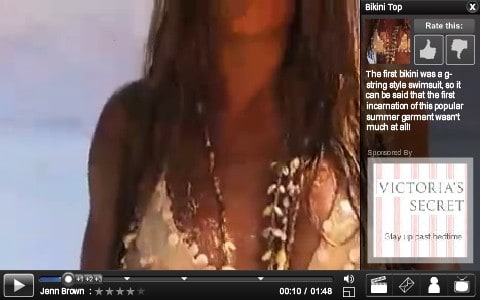 The Benefit to Advertisers
"Clickable video allows advertisers to get their message across through the content that people actually want to watch." Explains Babak. "No longer does video advertising have to be intrusive pre-roll or post-roll ads."
The Benefit to Video Publishers
"Clickable video allows publishers to do more story-telling, develop more characters, have a backstory they can integrate into the content, and provide more information to their viewers – be it product information, people or places." Says Babak.

How it Works
Babak explains that you sign up for an account on our website, then you upload your video like you would with any other site, like YouTube. (Videos can range from a few seconds all the way to a couple hours.) The system then scans and tracks every single one of the objects within your video (yes, actual image recognition), labels them for you, and allows you to make any of those scanned objects clickable. At that point, all you do is enter your own editorial content, or marketing copy, for each one of those objects, which then turns that object into an ad unit. Again, it's a dynamic ad unit, since the ad moves along with the object in the video, even at in-and-out points should the object disappear and then reappear. From there you can manage it all as an ad campaign – as a display ad, or cost-per-click (CPC), cost-per-lead (CPL), cost-per-action (CPA), or CPX (cost per whatever we can negotiate!)
How Everyone Makes Money
If you're and advertiser, you do a revenue-share with the publisher. If you're a video content publisher, you can insert your own ads, or VideoClix can provide the advertisers for you.  "We have over 2,000 advertisers that you can integrate into any of those video objects," he says. "Our advertising and distribution partners include Viacom / MTV Networks, ESPN, along with a wide range of content partners featured on their site. "Viewers can watch sports content, reality shows, music videos, fashion shows – pretty much anything." Say Babak. "You can watch them on MTV.com or ESPN.com, on our site at VideoClix.tv, or our 60 different partners that distribute the content through their own site networks," or even on your own site. Babak also explains that VideoClix's HD-quality flash video player can be integrated into any 3rd party player. "We have a free pilot version, which allows everyone to get involved." Says Babak. The pilot version is free for the first 2 months. After the free trial perid, depending on how many channels and users you need, the yearly license can go to either $4,995 (recommended for producers of shows under one channel for web and/or mobile distribution) or $9,995 (multiple channels for different shows) annually. If you are a video publisher and chooses the ads that VideoClix provides for you, then it's a 50/50 revenue share. If you choose to use your own ads, VideoClix charges what they call a basic click delivery fee, or ad delivery fee, for use of the VideoClix video platform.
Measuring Performance with Clickable Video
VideoClix measurements are based on breakdowns of views, rollovers, clicks, and ad click-thru-rate (CTR). "Our CTR rates [for clickable video] are anywhere from 5-15% on average, which is astronomical." Says Babak. "Everything is measured, and it gives the content production companies a better understanding of how their content is actually being experienced by viewers, which allows them to refine the content much better." For more information on the VideoClix video platform and pricing programs, check out the about VideoClix page on their website. Special thanks to our ad tech sponsor, Sheffield Marketing – a full service search marketing firm -specializing in search engine optimization, pay per click management, web analytics, and social media services for small to mid-sized businesses.